I love Monet. I could get lost in the dreamlike quality of his simple landscapes and cityscapes. And since I think Impressionism is just tops, I thought it would be fun to explore this style with my kiddos.
This is a pretty quick project and could be put together with materials you might already have on hand, thanks to the internet. Yay! Technology makes life easier. And also lets us do things on a whim.
1. washable paint (Or any paint that you prefer, really. Washable is less stressful for me.)
5. large sheet or art mat to keep your surface clean
6. the Internet (or other examples of Monet's work)
7. one or two...or three or four enthusiastic artists ;)
We started by looking at some images of Monet's work. We looked at this one, one of Natalie's personal favorites: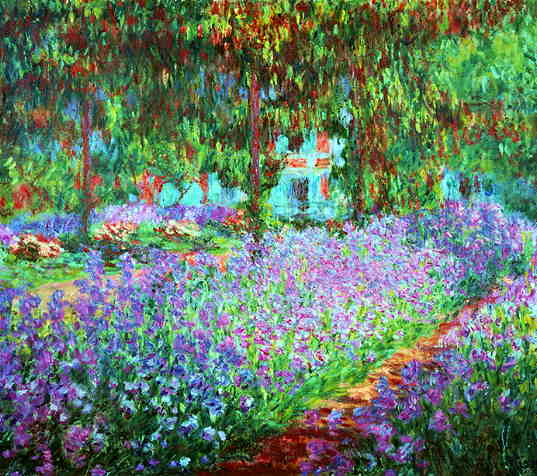 The Artist's Garden at Giverny
And we looked at this one, one of my personal favorites: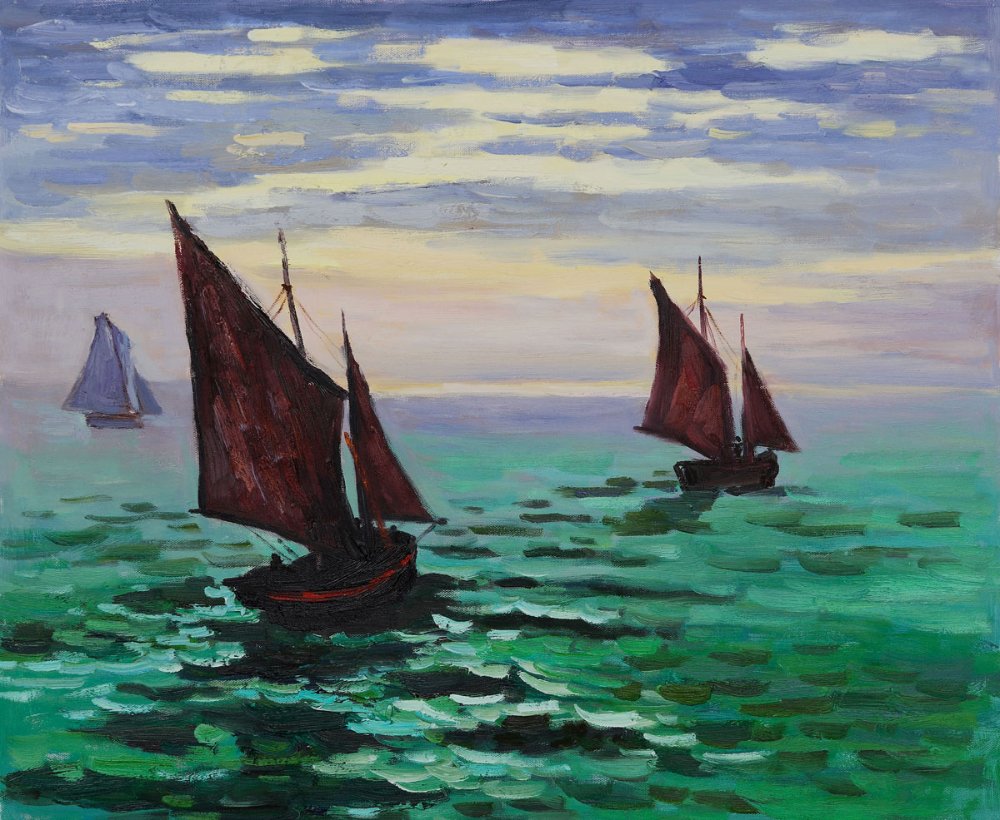 I helped the kids notice that Monet's paintings didn't look like actual life...and I used the term Impressionism to help them understand that this was his interpretation of what he saw. We also spent some time looking at several different paintings and picking out the dots and dashes he used to paint his pictures. In the first picture, I pointed out, Monet didn't paint each flower petal. Instead, he used a whole lot of dots to create what looks like a field of flowers. In the above picture, I helped the children notice that Monet used a series of dashes to create the image of moving water.
The other thing we noticed was that most of Monet's pictures were landscapes and cityscapes - painted outside. If we wanted to use Monet as our inspiration, we'd have to take things to the front yard. Which was fortunate, because it was a beautiful day. I could see turning this project into a field trip. How fun would it be to go to a nature park and walk around until you find the perfect scene?
We, however, stayed on our front porch. And this is what we were looking at:
I set up our project by giving the kids each a piece of art paper and a paper plate to mix colors. I decided to let them have a lot of freedom with this project (interpretation: I gave them the colors that they asked for), but I did remind them several times that we were painting a picture of the scene in front of us.
Daniel, I discovered, was a little young for this project. He had a lot of fun with the paints, but didn't seem to be able to recreate the scene. Not a fail, though. As I said, he had great fun painting. Natalie, on the other hand, was able to complete this project as intended. She is just beginning to make recognizable pictures. Therefore, depending on your child's ability, I'd say this project is age appropriate for 4 years and up.
Natalie began by making the grass in the bottom half of the picture. She used shorter dashes to accomplish this. Next, she worked on her blue sky with longer, wispier strokes.
She also added a sun to the left and began painting the Plumbago using a series of green dots. After that, she added some purple-blue dots to create the blooms on the Plumbago.
She looked up and noticed the oak tree to the right of the Plumbago and asked for brown. Not a color that I had on hand, so we talked about how to mix some colors to create brown. And we experimented until we got a color that satisfied her:
And she painted her tree:
I was so happy with how Natalie was able to apply the techniques she observed in Monet's painting to create her own landscape painting. I would definitely call this project a success based on that alone. But I was also happy with how she was able to translate what she saw in front of her to a recognizable picture on paper. It kind of makes a parent giddy when their child moves beyond a mess of crayon scribble to more organized thinking with their art!
As always, I'd love to see what your family is doing! If you use Monet as inspiration for your next project, leave a comment with a link and let me know!
If you enjoyed this post, please consider subscribing by email or liking my page on Facebook to receive updates on new posts!